Discover more from Project: Shadow
Are you ready for an adventure beyond your wildest dreams? Dive into my electrifying space opera, mystical urban fantasy, and epic fantasy stories, and discover the unseen wonders of Writing, Fandom, and Fiction as seen through metamodern eyes.
Merlin, Ogers and Disappearing Food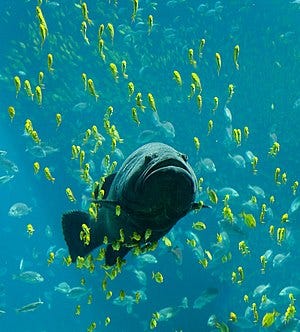 Image via Wikipedia
Have you ever been in a social situation where eating the contents of your plate is required but not desired?  If you are planning on throwing the food into the water heed my warning.
While watching Merlin episode 205 Beauty and the Beast: Part One Lady Catrina being an ogre finds human food revolting.  She has to eat to keep up pretenses with the king.  While picnicking she tosses the food from her plate into the river to give the appearance of having eaten the food.  Warning this will not always work.
As a small ogre or as some might mistake a child I would refuse to eat vegetables, they were repulsive.  My parents decided to imprison me at the dinner table until the vegetables were eaten.  I sat near the fish tank.  Fish eat plants so I figured they would eat vegetables too.
When my parents weren't looking I would secret some of the vegetables into the tank.  After a while my plate was cleared and I retreated into my cave (basement).  Several hours later I heard the dreaded howl from my mother.  She found the vegetables floating at the top of the tank.  The fish had failed me and I was busted.  She loves telling this tale.
That is my warning.  If you wish to try and clear your plate don't presume throwing it into a body of water will remove the evidence.