Discover more from Project: Shadow
Are you ready for an adventure beyond your wildest dreams? Dive into my electrifying space opera, mystical urban fantasy, and epic fantasy stories, and discover the unseen wonders of Writing, Fandom, and Fiction as seen through metamodern eyes.
Legend of the Seeker Behind the Scenes Knitting Fun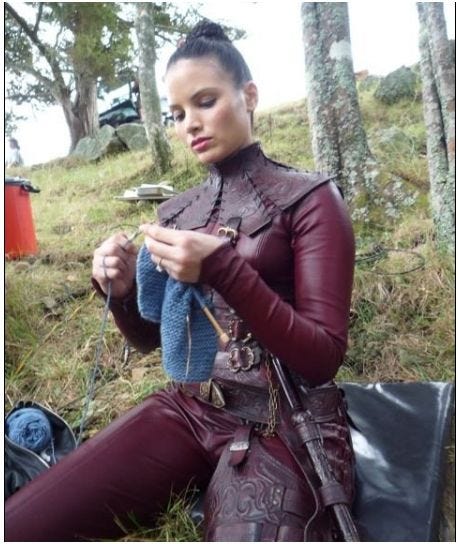 I love the juxtaposition of Katrina Law in her Legend of the Seeker Mord'Sith outfit knitting.  The Mord'Sith a symbol for fear, torture, and callousness while knitting is generally a motherly symbol one of a tender, creative, and nurturing act.  It really makes me think of Cara from the book toward her last moments.
She can torture you into total submission and make a nice pair of booties to keep your feet warm while you run through the cold stone floors of the People Palace fetching her bath water.
(Via The Seeker's Omnibus)