Discover more from Project: Shadow
Are you ready for an adventure beyond your wildest dreams? Dive into my electrifying space opera, mystical urban fantasy, and epic fantasy stories, and discover the unseen wonders of Writing, Fandom, and Fiction as seen through metamodern eyes.
DVD Releases: Hulk Vs.
Hulk Vs. is now out on DVD and I can't wait to see it!  This project is from the same group that brought us Next Avengers: Heroes of Tomorrow read my full review here.
The footage looks really good and I can't wait to see both of the smashing battles.
An update on my posts Exploring: Hulk vs Wolverine 2009 Movie and Exploring HULK VS THOR they are both on the Hulk Vs. DVD and not released as two separate DVD's
Hulk Vs. Thor:  A gods verses monster movie.  Loki looking for a way to bring defeat to his step brother teleports the only monster in the nine realms capable of this feat, The Incredible Hulk from Midgard.  The Hulk gets transported to Asgard which confuses and as expected angers him leaving Thor to try and stop him in an epic battle.

Hulk Vs. Wolverine:  The Hulk is loose rampaging through the Canadian Wilderness.  To stop him Canadian's Department H sends out Wolverine their elite agent.  This is the wild Wolverine before the X-Men days and without some of the tempering from Professor Xavier.  The clash results in a fierce battle.  Dead Pool also makes an appearance and complicates matters even more for Wolverine.
Get your copy Hulk Vs. here!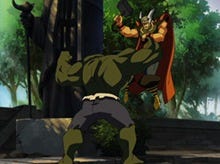 ---
Netflix lets you rent, watch and return DVDs from home - Try free for 2 weeks
Don't wait. Guarantee your seat before you go and  avoid a sold out show. Skip the box office lines and buy movie tickets at Fandango.com
.