Discover more from Project: Shadow
Are you ready for an adventure beyond your wildest dreams? Dive into my electrifying space opera, mystical urban fantasy, and epic fantasy stories, and discover the unseen wonders of Writing, Fandom, and Fiction as seen through metamodern eyes.
H P Lovecraft Goes Where The Wild Things Are
As a young child I grew up reading Where The Wild Things Are, it was one of my favorite books.  Latter on I found the glories of H. P. Lovecraft's gelatinous writings as it oozed into my brain.  Now there is no need to wait thanks to the glorious warped mind of Kenneth Hite.

Where the Deep Ones Are is a parody mashup of Where The Wild Things are and The Shadow Over Innsmouth!  It's a 32 page full-color illustration.

After greedily yelling for more fish, young Bobby is sent to his bedroom without any supper at all. But Bobby escapes when the Manuxet River runs right through his room, carrying an old boat that takes him to a magical town full of fish and slimier things ... the town of Innsmouth. Will Bobby join the wild rumpus under the sea, and be crowned the most Deep One of all?

To add to that delightful weird fun they also put out a free PDF coloring book.  Now when I'm scribbling, jabbering mad on a piece of paper my friends and family will understand what it's about since there were lines to begin with.  Get the Free Deep Ones Coloring Book here!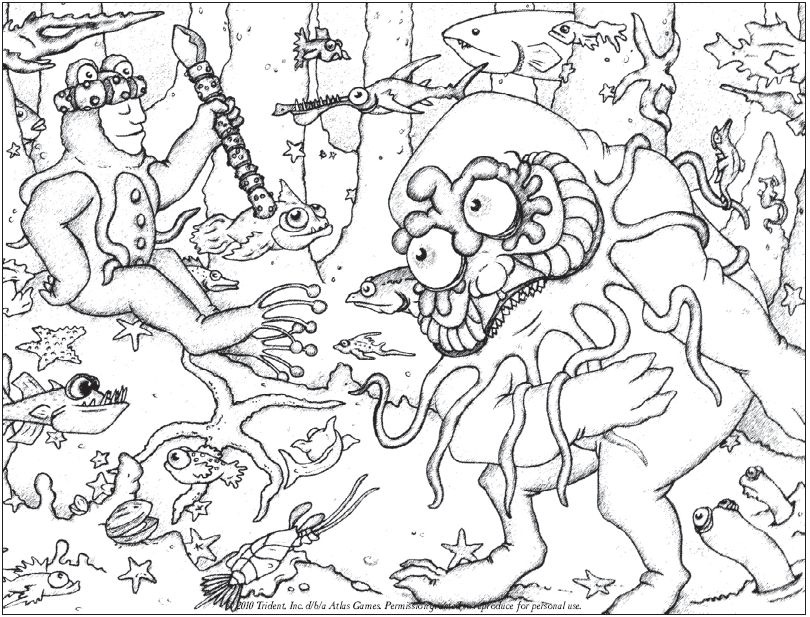 Thanks very much to Heidi for turning my attention to this monstrously fun book.