Discover more from Project: Shadow
Are you ready for an adventure beyond your wildest dreams? Dive into my electrifying space opera, mystical urban fantasy, and epic fantasy stories, and discover the unseen wonders of Writing, Fandom, and Fiction as seen through metamodern eyes.
Baycon: The Bay Area Science Fiction and Fantasy Convention
I will be at Baycon 2010, handing out freebies, speaking on panels and generally having a good time. Please come join me! If you see me, don't be afraid to approach for goodies!  Let me know you were referred by dashpunk.com to get an extra goodie!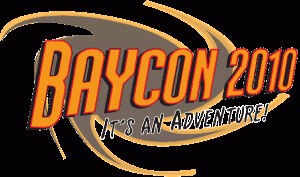 The Bay Area Science Fiction and Fantasy Convention
May 28-31, 2010
The Hyatt Regency, Santa Clara, CA
Guests of Honor
Writer: Peter S. Beagle
Fan: Colleen and Steve Savitzky
Toastmaster: Tadao Tomomatsu
Artist: Lee Moyer
Special Guests: Mercedes Lackey & Larry Dixon