Missouri House declares state sovereignty, dark ages follow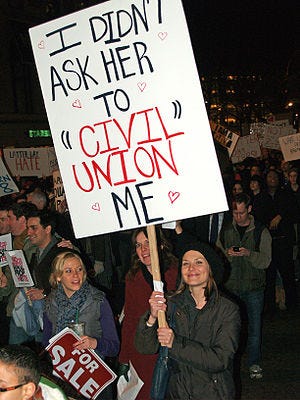 Image via Wikipedia

Isn't this how the Civil War started?

JEFFERSON CITY, Mo. (AP) - Missouri House members have given preliminary approval to a constitutional amendment that asserts the state's right to reject federal actions.

The measure says that Missouri will not enforce or recognize various federal policies. Those policies would cover subjects such as hate crimes, gun control and allowing civil unions or same sex marriage (KFVS12).

So the right of someone to beat up or kill a Faggot, keep us from having equal rights, and ready access to guns are so important that they have to be enshrined in the state constitution... and why are they mixed together like that... that doesn't make me feel very good...

Since the Nullification Crisis of the early 1800s, the US has recognized the supremacy of federal law over state law.  This is one cycle from the past we can skip... ugh