Discover more from Project: Shadow
Are you ready for an adventure beyond your wildest dreams? Dive into my electrifying space opera, mystical urban fantasy, and epic fantasy stories, and discover the unseen wonders of Writing, Fandom, and Fiction as seen through metamodern eyes.
Destination Truth gets a fourth season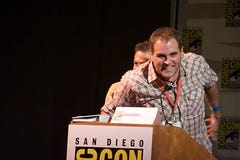 Image by ewen and donabel via Flickr

Syfy renewed Destination Truth for a fourth season to begin this fall!  Fans of weirdness around the world rejoice, and our numbers are growing!

Building on Syfy's successes in original reality programming, the first half of Destination Truth's third season (Fall 2009) established all-time series highs in total viewers (2.2 million), Adults 18-49 (1.3 million), Adults 25-54 (1.4 million) and Household ratings (1.6). The series increased in total viewers (+43%), Adults 18-49 (+41%), Adults 25-54 (+39%) and HH ratings (+33%) compared to Season 2 (SCI FI Wire).

Destination Truth plays with the sense of wonder, skepticism, and adventure alive in all of us.  This shows success is a testament to spirit of inquiry that defines us.

What do you want Josh and the gang to hunt for in season 4?