Discover more from Project: Shadow
Are you ready for an adventure beyond your wildest dreams? Dive into my electrifying space opera, mystical urban fantasy, and epic fantasy stories, and discover the unseen wonders of Writing, Fandom, and Fiction as seen through metamodern eyes.
Metropolis: Complete, Restored and On Tour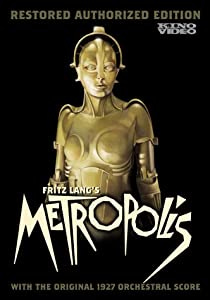 The newly restored and 25 minutes longer version of Metropolis will go on tour and latter to be released on DVD!

Metropolis is one of the classic, iconic examples of what science fiction should be.  A must see movie for any science fiction fan.  It's influence over the decades has permeated the genera setting standards.  After it's premiere a substantial amount of footage was lost.  Even with the lost footage I watched the film, moved by it and bettered from the experience.

Filmed in 1927 by Fritz Lang it is a German expressionist film.  Metropolis is a futuristic urban dystopia that explores the themes of the social crisis between workers and owners in capitalism.  Themes that still haunt and plague our society today.

A 30 minute longer version of the film was found in Argentina in 2008.  A long restoration process began saving and adding back in 25 minutes previously lost.  In February 2010 there was a public showing in Berlin and Frankfurt.

Now the complete, restored version of Metropolis will go on tour.  Starting on May 14th at the Laemmle Royal Theatre in Los Angeles California.  Get the full list of tour dates here: Metropolis Playdates

Enjoy the trailer below.




(via /Film)