Discover more from Project: Shadow
Are you ready for an adventure beyond your wildest dreams? Dive into my electrifying space opera, mystical urban fantasy, and epic fantasy stories, and discover the unseen wonders of Writing, Fandom, and Fiction as seen through metamodern eyes.
Christopher Judge's Must See Rage of Angels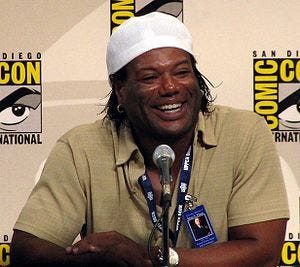 Image via Wikipedia

Christopher Judge is working on a series titled Rage of Angels that I must see!

Rage of Angels is about the Archangel Gabriel who hunts other supernatural beings after being sent to earth.  Christopher Judge will play Gabriel.

"That's one of the things we are going to explore in this series.  What is it like for these archangels that come to earth, who have these tactile sensations that are new to them — how does that affect them?  And what really is the difference between good and evil?"

Absolutely fascinating, that is a series I could really get into!

In a recent interview Christopher Judge confirms the project is on track

"We're just finishing up doing the bible for the series and hopefully we'll be to camera by the fall."

Rage of Angels recently moved from MGM to Starz.  This is good news since MGM is in financial trouble and was putting doubt on the chances for the show to get produced.

He has already proven the ability to not only act but to write and direct during his time on Stargate.  I really enjoyed the episodes that he and am looking forward to watching his show.

(via GateWorld)