Discover more from Project: Shadow
Are you ready for an adventure beyond your wildest dreams? Dive into my electrifying space opera, mystical urban fantasy, and epic fantasy stories, and discover the unseen wonders of Writing, Fandom, and Fiction as seen through metamodern eyes.
Odd: Xavier Institute for Higher Learning In Real Life
Xavier Institute for Higher Learning Meet Your British Counterpart.  A Ribble Valley businessman put in a bid to buy the Gwrych Castle in Abergele, North Wales.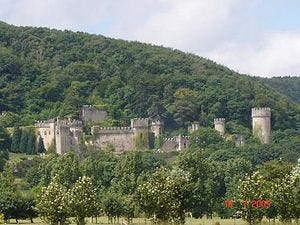 Image via Wikipedia

His intentions is to open up a school or retreat for the psychically gifted.

"It has always been one of my ambitions to open a psychic retreat somewhere and this would work on several fronts.

It will be somewhere where psychics can go to meet like-minded people, to further their interests and develop their psychic senses." He said.