Discover more from Project: Shadow
Are you ready for an adventure beyond your wildest dreams? Dive into my electrifying space opera, mystical urban fantasy, and epic fantasy stories, and discover the unseen wonders of Writing, Fandom, and Fiction as seen through metamodern eyes.
Superman, Wonder Woman Writing Power Up!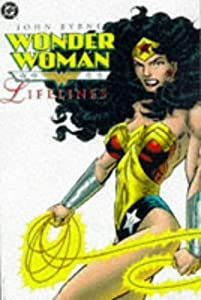 Cover of Wonder Woman: Lifelines
Starting in July J. Michael Straczynski will take over DC Comics' Superman and Wonder Woman on an ongoing basis.  This is great news!
Joe is a gifted writer who has many, many brilliant TV and Comic projects.  He-Man, She-Ra, The Real Ghostbusters, The New Twilight Zone, Jake and the Fatman, Murder, She Wrote, Walker Texas Ranger, Babylon 5, and Jeremiah to just name a few of his TV projects.
Superman has now become interesting.  Batman is way better then Superman but with Straczynski behind him I suddenly find myself interested.
I'm hoping this change will be the gateway into getting a Wonder Woman movie.
Now if the studios will only hold off on the Superman rewrite project waiting for Straczynski to guide them.
(via SCI FI Wire)