Discover more from Project: Shadow
Are you ready for an adventure beyond your wildest dreams? Dive into my electrifying space opera, mystical urban fantasy, and epic fantasy stories, and discover the unseen wonders of Writing, Fandom, and Fiction as seen through metamodern eyes.
Ghost Sighting In St Bathans Post Office Window
Andrew Watters took a picture of what appears to be a ghostly apparition.  The picture is of the old St Bathans post office near Alexandra.

Could this picture be proof of the afterlife, a more natural phenomenon like clouds or is it faked?

For most they will believe what they want.  For me the value in a picture like this one is it's inspirational value.  To dare to dream that ghosts walk amongst us.  That phenomenon beyond our current science knowledge occurs all around us. The questions it raises is what makes it worth sharing.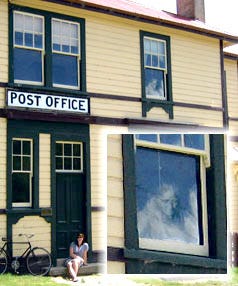 (via The Southland Times)