Discover more from Project: Shadow
Are you ready for an adventure beyond your wildest dreams? Dive into my electrifying space opera, mystical urban fantasy, and epic fantasy stories, and discover the unseen wonders of Writing, Fandom, and Fiction as seen through metamodern eyes.
Night's Knights is on Mobipocket!
Support Night's Knights!
Buy your copy on Mobipocket
January 23rd!!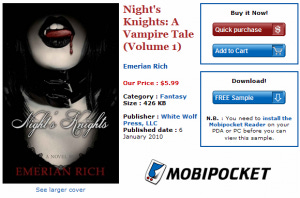 On January 23rd (this Saturday), buy Night's Knights on Mobipocket!
SPECIAL OFFER!!*
Everyone who buys the Mobipocket edition of Night's Knights has the opportunity to receive a copy of the Night's Knights Companion free!

Just follow these simple steps:
1. Buy Night's Knights on Mobipocket on January 23rd.
2. Take a picture of yourself with your e-device, pc, or phone open to Chapter 13 of Night's Knights.
3. Email the picture to Emerian at: emzbox@sbcglobal.net with your name and snail mail address by February 5th.
4. Enjoy your ebook of Night's Knights while you await your extras!

January 23rd is Mobipocket push day. If you've been putting off buying, this is the perfect time! You can buy your digital copy for your phone, e-reading device, or to read on your pc! And because it's an ebook, you get it for half the price! Only $5.99 later, you will be swimming around in Night's Knights goodness. Yum!
Night's Knights Companion booklet is a must have. Packed with floor plans, character sketches, and fan fic, you won't believe how much background information and author notes are packed in this baby!

Buy Night's Knights on Mobipocket now!

*Special Offer ends February 5th, 2010