Discover more from Project: Shadow
Are you ready for an adventure beyond your wildest dreams? Dive into my electrifying space opera, mystical urban fantasy, and epic fantasy stories, and discover the unseen wonders of Writing, Fandom, and Fiction as seen through metamodern eyes.
Tour Of San Francisco Holiday Windows 2010

As the year rolled around to December, I began to think about the windows and if I would find anything interesting this year. I've long given up hope in seeing spectacular from Saks and although other retailers strive for good, little have wowed me in the last few years. One stays at the top and that, of course, is Macy's SPCA windows. Not only do they bring the magic of the holidays to the season every year, they support a good cause.
The windows are inspired by Macy's nostalgic "Believe" campaign, based on the New York Sun's famous "Yes, Virginia, there is a Santa Claus" editorial from 1897. Animals up for adoption will play in front of a colorful cityscape backdrop based on the animated "Yes Virginia" movie.

This year, Scott Wichmann and Edith Alderette, from JetBlue Airways, volunteered their precious Saturday holiday shopping time to stand out in the cold and tell natives and tourists alike about the SPCA. Millions of people of all ages will walk by and ogle these awesome displays this season. The goal is to raise funds and awareness about the orphaned pets residing in the posh San Francisco Macy's department store for the month of December. Their normal diggs aren't quite so cozy, so please stop by and make one of them comfortable in your home. Donations can be given at the windows, online, and this year, by text.

To find out more about donating to the San Francisco SPCA, go to: www.sfspca.org

Here are some other windows and décor of note around town.

Top Pick - Tiffany & Co.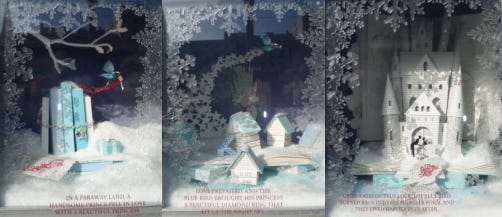 With the Macy's editorial theme and these awesome windows by Tiffany, this year the theme seems to be literature. Considering we are a society slowly drifting away from the written word into the digital, it is refreshing to see the magic of storytelling come alive in these awesome displays. Created from what looks like book pages, the windows tell a fairytale of prince and princess. True love will conquer all, and apparently get you a diamond ring. This is the second year Tiffany pulled out all stops to bring interesting designs and considering they only have these tiny shadow boxes to work with, I applaud them.

Second Pick - Shrek the Musical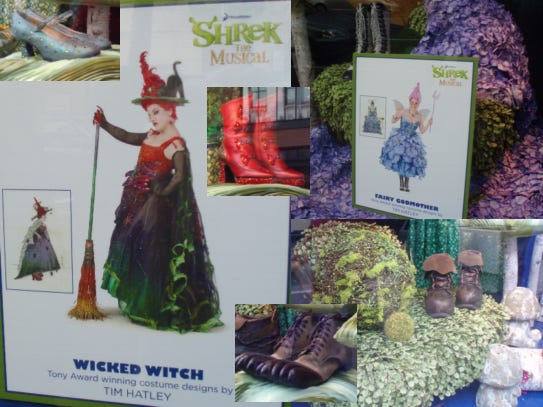 On the south side of Macy's, is an awesome display of the new Shrek the Musical's costume design. Shrek the Musical runs from December 1st to January 2nd at the Orpheum theatre. Tony award winning costume designer, Tim Hatley, shows his talents by displaying character photos and sketches. This display is more like a museum showpiece than a holiday window. Actual costume pieces and shoes will wow any costume or musical buff and have kids staring for hours. There were several little girls gawking up at the window in amazement when I took these pictures. I could see dreams of the stage developing in their little heads.
Third Pick - Anthropologie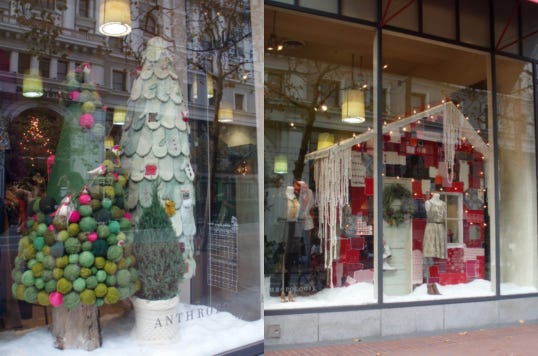 Anthorpologie is always sure to turn your head. Last years awesome winter wonderland created from recyclables is one I won't soon forget. This year, they have made a wonderland out of yarn! From their mitten and spool trees to their snowy cabin covered in white yarn icicles, they get my vote for most original. I can't wait to see what they come up with next year!
Favorite Tree - Japantown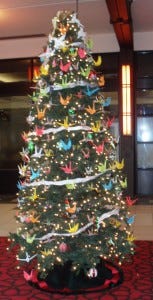 Although Neiman Marcus always wows us with their three story tree sprouting up from the floor boards as if grown in the basement, I've settled on a simple tree for this year. This origami-covered tree is located in the Miyako mall in Japantown. This little tree reminds us that we can all celebrate in some way by making the holidays in our style. So what if you don't have the money for shiny decorations or expensive ski trips out of town? Gather with your friends and family and celebrate life in whatever way you wish.

Thank you to all the creators and imaginative persons involved. I can't wait to see what you come up with next year. Do you have a store in the San Francisco Bay Area that is dressed to the nines? Feel free to contact me so I can drop by and take a peek!