Discover more from Project: Shadow
Are you ready for an adventure beyond your wildest dreams? Dive into my electrifying space opera, mystical urban fantasy, and epic fantasy stories, and discover the unseen wonders of Writing, Fandom, and Fiction as seen through metamodern eyes.
The Karate Kid Remake Trailer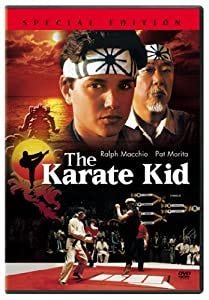 Columbia Pictures has a trailer out for The karate Kid remake.  I grew up watching The original Karate Kid movies and found them very inspirational and formative.

Like many in fandom I too grew up under the terror regime of a neighborhood bully.  The Karate Kid showed me the importance to standing up to bullies, the tools necessary are within us and in the environment around us and that violence does not resolve conflict.

The original movie showed me how our environment can provide for the tools necessary to get a job done that accessing those tools are just a matter of creativity and awareness.

Beyond all of that the original Karate Kid taught me that the real fight against an opponent is not a physical one.  It laid the ground work and awareness that violence does not resolve a conflict but that once one has defeated their fear the bully is defeated.

Because of that deep and personal relationship with the original movie I've been skeptical of the remake, concerned that those values will not be maintained.  After watching the trailer I have more hope for the movie.  Watch the trailer below.



A 12 year old detroit kid moves to China with his mother.  Due to cultural differences he makes the class bully and enemy.  With no friends, in a strange land, Dre has nowhere to turn but maintenance man Mr. Han, who is secretly a master of kung fu. Han teaches Dre that kung fu is not about punches and parries, but maturity and calm.

The karate Kid hits theaters June 11, 2010