Discover more from Project: Shadow
Are you ready for an adventure beyond your wildest dreams? Dive into my electrifying space opera, mystical urban fantasy, and epic fantasy stories, and discover the unseen wonders of Writing, Fandom, and Fiction as seen through metamodern eyes.
KISS For the Rock and Roll Hall of Fame!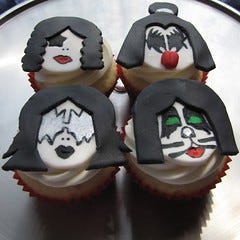 Image by clevercupcakes via Flickr

It's about time:

KISS is among a dozen finalists for induction into the Rock And Roll Hall Of Fame. After being snubbed for years — the band has been eligible for the honor since 1999 — KISS has finally been nominated, along with ABBA, DONNA SUMMER, GENESIS, THE STOOGES, THE HOLLIES and, in the first year in which they qualify, LL COOL J and the RED HOT CHILI PEPPERS, the organization has announced. JIMMY CLIFF, DARLENE LOVE, LAURA NYRO and THE CHANTELS are also on the ballot, and votes will be cast by a group of more than 500 musicians and industry professionals; of the 12 nominees, the five that get the most votes will be announced in January and inducted into the Hall of Fame at its 25th annual ceremony on March 15 at the Waldorf-Astoria in Manhattan (BLABBERMOUTH).

With a Ballot like that the five who get in should be:

Kiss

The Stooges

Genesis

Abba

Red Hot Chili Peppers

Hopefully, that is how it works out, but Donna Summers and The Chantels will probably win this ballot.  I am just not sure who they will knock out.

What would your ballot look like?