Discover more from Project: Shadow
Are you ready for an adventure beyond your wildest dreams? Dive into my electrifying space opera, mystical urban fantasy, and epic fantasy stories, and discover the unseen wonders of Writing, Fandom, and Fiction as seen through metamodern eyes.
Harry Potter and the Half-Blood Prince On DVD and Blue-ray
Harry Potter and the Half-Blood Prince will be out on Blue-ray and DVD December 8th!  The Blue-ray combo pack will feature commentary hosted by Daniel Radcliffe, emma Watson and Rupert Grint.  Copies will be available to order from Amazon any day now.
Get your copy from Amazon here
Warner Brothers will also release Harry Potter Ultimate Editions for year one and two.  Years 3-7 will be released latter.
Harry Potter Ultimate Editions will contain
One hour feature from Creating the World of Harry Potter (8 hours in total spread out throughout the 7 years)

Theatrical and extended versions of the Films.

Over 2 hours of special features.

Magical Collectibles.
I love the Magical Collectibles feature.  It's a mystery, hopefully not like eating Bertie Botts Every Flavor Beans.  I'm not too keen on getting a boogie flavored magical collectible.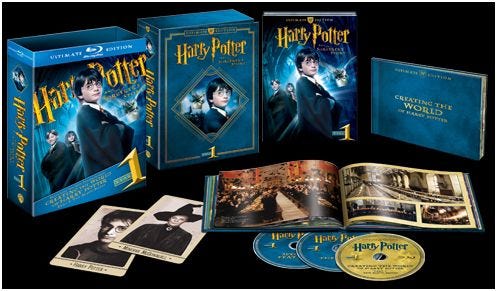 For More