Discover more from Project: Shadow
Are you ready for an adventure beyond your wildest dreams? Dive into my electrifying space opera, mystical urban fantasy, and epic fantasy stories, and discover the unseen wonders of Writing, Fandom, and Fiction as seen through metamodern eyes.
Warehouse 13 renewed for second season!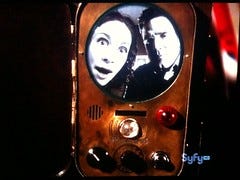 Image by stevegarfield via Flickr

Warehouse 13 has been renewed for a 13 episode second season!  Wait, what?  They are only buting 13 more episodes?

Warehouse 13 has become the most-watched show in Syfy's 17-year history, averaging 3.7 million viewers a week (SCI FI Wire).

I assume it is 13 episodes because the show is called Warehouse 13, and because SyFy is fond of scheduling half seasons.  Hopefully they will do 2 seasons a year, and I will get the Warehouse fix that I need.