Discover more from Project: Shadow
Are you ready for an adventure beyond your wildest dreams? Dive into my electrifying space opera, mystical urban fantasy, and epic fantasy stories, and discover the unseen wonders of Writing, Fandom, and Fiction as seen through metamodern eyes.
A First Look At Night's Knights by Emerian Rich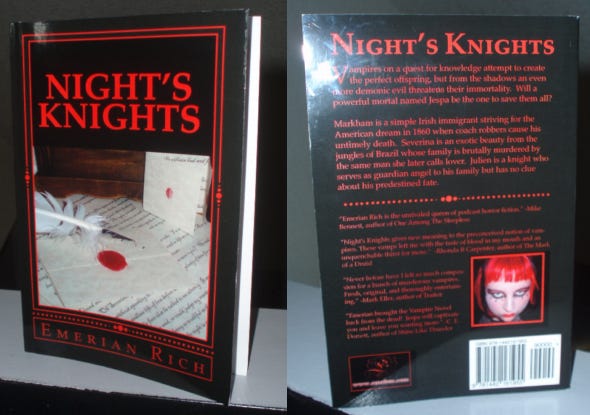 I love getting things like this in the mail!  This is my 1st proof of my print novel Night's Knights.
There are some adjustments I will be making, but for the most part I am thrilled beyond all common uses of the word.
All the fonts and pictures I used came out beautifully.  I really like the size and weight of the finished product and although I wanted to keep the price under ten dollars, the fact that it will be $13.00 does not bother me after seeing it.

It is quality paperback which major booksellers charge $15-$20 for and I am confident the finished product will be something vampire fans across the globe will have a hard time passing by.
One bit of news I have is, although the cover was locked in, I suddenly met someone who has the most beautiful picture that I would like to use for the cover. We are in talks about the details, but when I know for sure, I will give you links to her portfolio. Excellent stuff.  I am so excited to have met her and to have seen her artwork just in time.