Discover more from Project: Shadow
Are you ready for an adventure beyond your wildest dreams? Dive into my electrifying space opera, mystical urban fantasy, and epic fantasy stories, and discover the unseen wonders of Writing, Fandom, and Fiction as seen through metamodern eyes.
Futuristic Robin Hood or Distopian Green Arrow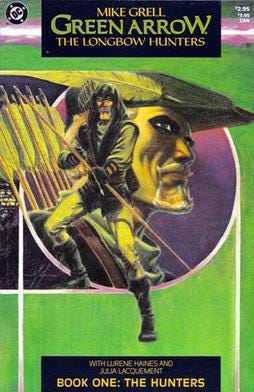 Image via Wikipedia
Warner Bros is also developing a film based on the classic tale, but with a sci-fi twist. Danish commercial director Nicolai Fuglsig pitched the project, and has signed on to direct. Newcomer Jason Dean Hall, who wrote the Ashton Kutcher Sundance comedy Spread and is working on a big screen adaptation of the video game Blacklight for Fox, has been hired to write the screenplay. Charles Roven (The Dark Knight) and Gianni Nunnari (300, The Departed) are producing the adaptation.

According to RiskyBiz, the story will "be set in a dystopian London and center on a band of thieves whose activities restore hope to the city's embattled population." The producers describe it as "a futuristic action adventure" that will be "both inspired by and pay homage to the legend of Robin Hood (/Film)."

While this might be an interesting movie, the first thing that came to mind was a distopian Green Arrow movie...

As a writer, I understand that there is nothing new under the sun.  All a writer can really do is add a new twist on old stories while trying to be be as original as possible.

My biggest problem with this idea is that it is just a "me too" from Warner Brothers that is trying to feel off the hype behind the Ridley Scott Robin Hood.  Remember that part about trying to be original?