Discover more from Project: Shadow
Are you ready for an adventure beyond your wildest dreams? Dive into my electrifying space opera, mystical urban fantasy, and epic fantasy stories, and discover the unseen wonders of Writing, Fandom, and Fiction as seen through metamodern eyes.
James McTeigue's The Raven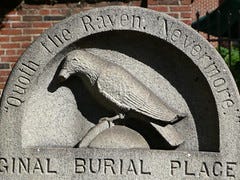 Image by orayzio via Flickr
What's next for [James] McTeigue? The filmmaker, for the first time ever, reveals details about his next project — James is currently casting a period thriller titled The Raven, a fictionalized account of the final five "mysterious" days of Edgar Allan Poe's life. Apparently the famous writer joins the hunt for a serial killer whose murders are inspired by his stories (/Film).

Ok...  I think I understand.

This kind of movie has come and gone over the years.  Unfortunately, most of them are really bad.  The only good one I can think of is In the Mouth of Madness, but they changed the name of of the author from HP Lovecraft to Sutter Cane,

This could be a good movie, but my hopes are not too high at the moment.