James McTeigue's The Raven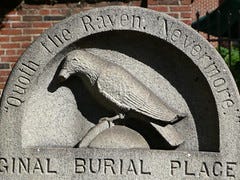 Image by orayzio via Flickr
What's next for [James] McTeigue? The filmmaker, for the first time ever, reveals details about his next project — James is currently casting a period thriller titled The Raven, a fictionalized account of the final five "mysterious" days of Edgar Allan Poe's life. Apparently the famous writer joins the hunt for a serial killer whose murders are inspired by his stories (/Film).

Ok...  I think I understand.

This kind of movie has come and gone over the years.  Unfortunately, most of them are really bad.  The only good one I can think of is In the Mouth of Madness, but they changed the name of of the author from HP Lovecraft to Sutter Cane,

This could be a good movie, but my hopes are not too high at the moment.