Discover more from Project: Shadow
Are you ready for an adventure beyond your wildest dreams? Dive into my electrifying space opera, mystical urban fantasy, and epic fantasy stories, and discover the unseen wonders of Writing, Fandom, and Fiction as seen through metamodern eyes.
Crafty Octorock!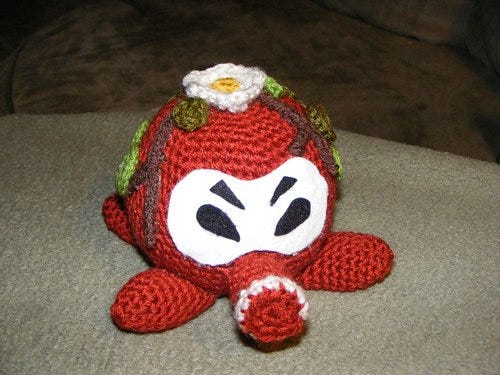 And this little cute octorok! And not just any octorok--it's a boss. I love all of the little details on the top of him (Geek Central Station).

When I see things like this, I get a little worried that if I ever get the Victorian house I want it will turn into a fannish version of my great aunt's house.

Crocheted Super Mario coin doilies

Knitted Octorock tea cozies

Sephiroth tapestries on the walls

Fine art dragon paintings

I could go on, but I don't want to scare Brian with more of these musings.  It would be awesome though.