Discover more from Project: Shadow
Are you ready for an adventure beyond your wildest dreams? Dive into my electrifying space opera, mystical urban fantasy, and epic fantasy stories, and discover the unseen wonders of Writing, Fandom, and Fiction as seen through metamodern eyes.
Granny Square Mario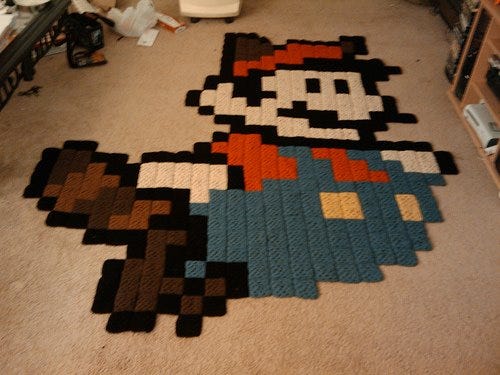 First off--probably the most awesome use of granny squares ever. I like that it isn't a traditional square shape, and is just the outline of Mario. Even so, this thing must be pretty huge. I think there are over 350 granny squares on this thing (Geek Central Station).

I love this Super Mario!  I used to help my Grandma Smith make these squares for tissue covers and the like, and I am not sure why I never thought about making 8 bit art with them.  I might have to get started.

BTW: are these really called granny squares?