Discover more from Project: Shadow
Are you ready for an adventure beyond your wildest dreams? Dive into my electrifying space opera, mystical urban fantasy, and epic fantasy stories, and discover the unseen wonders of Writing, Fandom, and Fiction as seen through metamodern eyes.
The Clone Wars - Clone Commandos DVD
Star Wars: The Clone Wars - Clone Commandos (TV Series Season 1, Vol. 2) DVD will hit the shelves on September 15, 2009 and can be preordered now from amazon here.

WARNING:  This DVD will have only 4 episodes from season one and is not the eagerly awaited Clone Wars season one box set which is supposed to be released latter this year.

I do love that the cover features Mace Windu one of my favorite characters with his purple lightsaber.

"Rookies," Captain Rex and Commander Cody must inspire a rookie unit -- posted alone on a distant moon -- to believe in themselves in order to stave off a Separatist droid commando attack.

The three part Ryloth series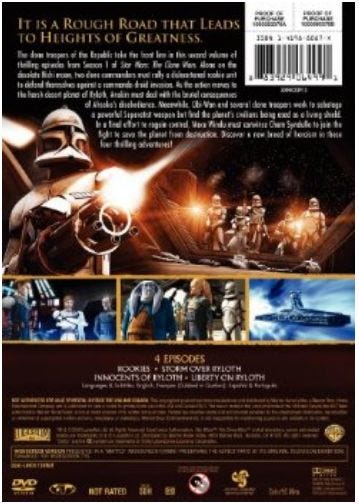 (via Star Wars)