Discover more from Project: Shadow
Are you ready for an adventure beyond your wildest dreams? Dive into my electrifying space opera, mystical urban fantasy, and epic fantasy stories, and discover the unseen wonders of Writing, Fandom, and Fiction as seen through metamodern eyes.
Orion's Shoulder May Have Blown Up!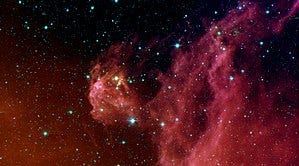 Nearby star Betelgeuse has been noticably shrinking over the past decade indicating that it may by now have gone supernova, at 600 light years distant the explosion would pose no threat but would provide a spectacular fireworks display.
Since Betalgeuse is located on Orion's shoulder does this mean that Orion's shoulder blew up!
(via Unexplained Mysteries)