Discover more from Project: Shadow
Are you ready for an adventure beyond your wildest dreams? Dive into my electrifying space opera, mystical urban fantasy, and epic fantasy stories, and discover the unseen wonders of Writing, Fandom, and Fiction as seen through metamodern eyes.
Kings Is Back!!!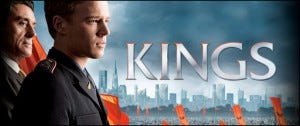 A new episode of Kings airs on NBC this Saturday at 8pm.  I'm glad for it's return after the break.  Kings is a great dramatic show exploring family, loyalty, and political intrigue in a magic realism setting.  I know what I'm watching Sunday night on Hulu.

"Brotherhood" is the episode to air in which Jack and David go to Gath to shore up the peace treaty, which is threatened by Gath's dangerous request. Elsewhere, Michelle encounters problems stemming from her health-care bill, and Silas takes steps to prevent a plague from ravaging the city.

For more on Kings including reviews of the previous episodes click here

Check out the Kings podcast "Of Gods and Kings" which will also be returning to discuss the events in Brotherhood.