Discover more from Project: Shadow
Are you ready for an adventure beyond your wildest dreams? Dive into my electrifying space opera, mystical urban fantasy, and epic fantasy stories, and discover the unseen wonders of Writing, Fandom, and Fiction as seen through metamodern eyes.
My Top 10 Favorite Television Series, I Didn't Watch On The TV Box.
You know how it is. You see the ads for a new TV show and then never catch it. Or the network pulls it before you can really get a grip on the characters. Or they keep changing times and you can never figure out when it's on. Or you like it, watch the first or even second episodes, and then one night you miss it and bam… you're out of the loop. Now with places like Hulu.com and Netflix streaming online, you can catch a lot of your favorites online. Here are my top ten favorite television shows I didn't watch on the TV box, in alphabetical order: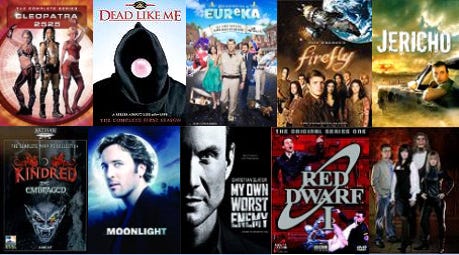 Cleopatra 2525 - Complete Series

, 2000
Ok, so I know this is a little corny, but I love it. An exotic dancer in for plastic surgery in 2001, wakes up in the year 2525 to find the world has been taken over by evil robots. This show brings you scantily clad beauties with arm bands that shoot lasers and help them repel down giant elevator shafts and a freaky bad guy in clown makeup and extensions. It doesn't get better than that.   Watch it streaming online on Hulu

Dead Like Me, 2003
A college dropout is killed by a toilet seat that falls from a space station on her first day at a temp agency. Upon death, she finds out she is has been chosen to be a grim reaper and take people's souls just before they die. The bad news? She still has to work for a living! Some of these scenes are so close to real office life, it's scary. Can anyone say collate?

Eureka, 2006
The best minds in the US are tucked away in a remote town where they build futuristic inventions for the government's benefit. A US Marshal gets stranded there and decides to becomes the next Sheriff after the old one is injured from a science project gone wrong. Quirky, fun.  Watch it streaming online on Hulu.

, 2002
In the distant future, Captain Malcolm 'Mal' Reynolds a former soldier for the independents, is now a smuggler and commander of a small spacecraft with a loyal hand-picked crew. They travel the far reaches of space in search of food, money, and anything to live on.  Along the way, they encounter life-threatening missions and a cast of interesting characters. Must see. Watch it streaming online on Hulu.

, 2006
When bad boy Jake returns to his Kansas small-town home, Jericho, everyone is preoccupied with petty private business and family matters, but that changes drastically after an unexpected explosion hits. It soon becomes clear there has been a nuclear attack, but no one knows by whom or to what scale. Jericho inhabitants gradually discover the USA is disintegrating. Life becomes complicated for these small town folk when needs such as food, fuel, and self-defense against invaders become the main task. Jake proves extremely resourceful and a smart hero saving the town many times and changing the resident views of him. Watch it streaming online on CBS.

, 1996
Julian Luna, prince of the kindred (vampire), clans in San Francisco, has his job cut out for him as he must try to keep peace among them while not being afraid to apply ruthless justice against those who would break kindred rules. Infractions that merit "final death" include the taking of human life and changing humans into vampires who have not volunteered for the transformation. This show was an exciting and perplexing moment for all of us hard core vampire LARP'ers.  We were thrilled at the fact that mainstream took notice of something we enjoyed, puzzled the changes they made, and disappointed when it was cancelled just as the series started heating up!  I remember being upset that my favorite clan, Tremere, was not represented and hoped that season 2 might have brought them out of the woodwork. The tragic death of Mark Frankel (Julian) after Season one, caused all of us Masquerade RPG'ers to lose faith in another season.

, 2007
A vampire is a private investigator and falls for mortal woman who he saved from dying as a child.  This show has been ridiculed by fans of the 1980's series Forever Knight.  It does seem like some of the shots used in Moonlight are very familiar to us Forever Knight fans and even some of the themes they use are very close to the other show.  However, I feel that Moonlight brings a sexier, up-to-date feel to our favorite "do-good" vampire role. I'm not saying it's better, it's just more vampire fun.

, 2008
As an agent for a top-secret government agency, Edward agrees to let the government insert a chip in his brain that can be turned on and off.  When he is turned off, he is Henry, an efficiency expert, who lives a typical suburban life right down to the wife, two kids, dog, and minivan. In contrast, Edward is a lethal, multilingual operative. Somehow the chip breaks, making it impossible for the government to control when Henry is "on" or Edward is "on".  I caught this on Hulu.com and loved it so much, I bought the DVD.  This is sort of a 24 meets Alias meets Dr. Jekyll and Mr. Hyde. TV aficionados will recognize many members of the cast and Christian Slater does a brilliant job of playing the innocent family man who could never harm a soul trying to come to grips with the fact his life is a sham and the lethal killer who will do anything to stay alive. Watch it streaming online on Hulu.

, 1988
Three million years ago, a radiation leak killed the crew of the mining ship, Red Dwarf. The only survivor was Dave Lister, the chicken soup machine repairman. He spends his time on the ship with a holographic projection of Arnold Rimmer (his dead bunk mate), Cat (a life-form that evolved from Dave's cat), Holly (the ship's senile computer), and Kryten (a service mechanoid).  BBC comedy good for hours of fun.  If you haven't heard of this one, you've been under a smegging rock.

Sanctuary, 2007
Amanda Tapping stars as a unique woman (possibly immortal?) who runs a Sanctuary for all kinds of creatures and monsters.  This show follows her and her team as they find new species and try to help them.  They also have their enemies.  I'm anxious to see what this show becomes... if it's renewed. Watch it streaming online on Hulu.

You can check out a lot of these gems at Hulu.com.  If you'd like to purchase them, you can do as I do and shop Amazon.com.

So, now that I've given you some to catch up on, what are your favorites?