Discover more from Project: Shadow
Are you ready for an adventure beyond your wildest dreams? Dive into my electrifying space opera, mystical urban fantasy, and epic fantasy stories, and discover the unseen wonders of Writing, Fandom, and Fiction as seen through metamodern eyes.
Orange Crows By James Perry II & Ryo Kawakami
In Orange Crows, a young witch performs a forbidden magic, blows up a research center, injures her best friend, and is exiled to a barren wasteland with witch devouring fairies all in the first two pages! Five years later, a group of witches come to take her to trial and see if she is able to return to society. Her old best friend, Natty, just happens to be the head of the ragtag group called the Special Witch and Warlock Squadron (S.W.S) that comes to collect her.

All the witches in this tale have mini wings that come out of their hips and wear talking hats. Each of these hats has a different attitude and style. One of the hats, named Grim, is a plumper version of the sorting hat from Harry Potter and always wants to sleep. The fashion styling of this manga is really unique. Think Halloween Town meets club kid, meets Delirium from the Sandman comics. The post apocalyptic-like clothes are funky and always interesting.

My favorite character is Bianka, a member for the S.W.S. and in charge of teaching us readers what everything is about in their world. Each chapter has a full page lesson called "Queen Bianka's Crash Course" where she tells us the details of certain witch practices such as sweeping, which is riding a broom like a hover board. Bianka is like a pint sized Tank Girl and has the same irreverent manner. She has plans to build teapot tank which she calls "1,000 pounds of porcelain death on wheels" and a talking cat that says, "Off with her head! Meow."

The S.W.S. take on perhaps the scariest monsters I have seen in a while. I think the picture below will cause you to agree. I'd hate to meet these guys in a deserted alley.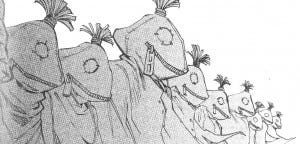 To find out more about Orange Crows, visit Amazon.com
Orange Crows Volume 1