Discover more from Project: Shadow
Are you ready for an adventure beyond your wildest dreams? Dive into my electrifying space opera, mystical urban fantasy, and epic fantasy stories, and discover the unseen wonders of Writing, Fandom, and Fiction as seen through metamodern eyes.
Star Wars AT-AT Cake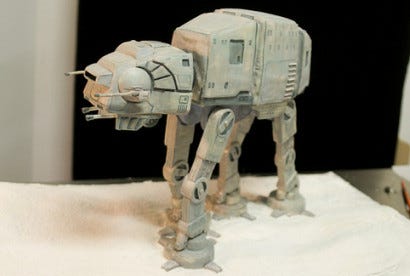 That is one amazing looking AT-AT cake.  It's not entirely edible since the legs and base are wood covered in gum paste but the head and body are edible.  That said I don't know if any edible material would be strong enough to support the body and especially the head.  The details on this AT-AT cake is amazing!  Great job Jennifer Luxmore of Sin Desserts in Providence, RI.
(via Star Wars)
Image via Wikipedia