Day of the Triffids cast and poster
We now know the cast and get our first look at the poster for the BBC remake of Day of the Triffids:

(Eddie) Izzard will play Torrence, the leader of a squad of soldiers who rounds up survivors after the Triffids take over Britain...

Scottish actor, Dougray Scott, will play the lead, Dr Bill Masen. ... Brian Cox, who appeared in the first two Bourne movies, plays Dennis Masen, his father.

Nip/Tuck actor, Joely Richardson, will appear as Jo Playton and Vanessa Redgrave will play Durrant. Interestingly, Vanessa Redgrave and Joely Richardson are mother and daughter in real life (SFFMedia).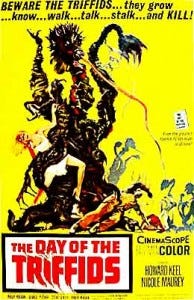 I really hope that we are starting to see the rebirth of the Scifi B-movie.  My only concern is they may try to make this movie about poison spitting plants from beyond the stars into a serious film.

Please camp it up people!