Discover more from Project: Shadow
Are you ready for an adventure beyond your wildest dreams? Dive into my electrifying space opera, mystical urban fantasy, and epic fantasy stories, and discover the unseen wonders of Writing, Fandom, and Fiction as seen through metamodern eyes.
Joss Whedon Interview on Writing
Joss Whedon answers questions from fans about his sources of inspiration and writing.



Out of film, television, and internet, which media do you find is most enjoyable to work on, most stressful, most rewarding, and why? — Chloe
Honey, it's all stress. I'm defined by stress. I'm on the ten best stressed list. The rewards are different -- movies are big and intense, TV is long and deep, internet is tiny and personal and mine all mine -- but all worth pursuing. I'm a media agnostic. If it's stories, I'll brave the stress.

I love how Joss focuses on the story.  It's what really sets his work apart and why if he is working on a project I count that as a huge plus on whether the project will be good or not.

How do you develop a character? Do you have a specific archetype, trope, or "slot" to fill in your shows that you fit a character to, or do you create their personalities separate from their purpose? — Anne
Purpose informs personality. It's not like I say "I need a wacky sidekick" — although I did when I was working on Disney musicals, but that was the form. I tend to focus on one character (perhaps a young woman of unnatural abilities, to pull an example randomly out of nowhere) and then the other characters are built from the needs of that character's journey.

I wonder if he follows Joseph Campbell's philosophy and / or what other models he uses to determine what other characters they need.

You get a lot of critical and fan acclaim for being an excellent 3rd generation writer but I really enjoy your directing style. Who are your influences in that regard and what kind of background training did you receive before you got behind the camera? — buffywrestling
I had no production experience outside of my backyard, but I had the best professors in the world. I'm influenced by everything I've seen and I studied most of the great American directors at Wesleyan (hint: watch EVERYTHING.) If I'm gonna pick directors, I'd say Borzage, Minnelli, Hitchcock, Carpenter. Today. But for some reason, Soderbergh's The Limey had the most immediate and visceral effect on my sense of style. It's so casually daring. Also, comic books really help dynamic framing and narrative coherence.

that's awesome that he mentions using comic books as a means for dynamic framing.  It's the same conclusion I came to.

I recently read an interview with you in Mother Jones magazine. "Geek God" I think was the term they used for you. How do you feel about your success? What advice do you like to give other "geeks" with good ideas? — Jennifer Russell
If you have a good idea, get it out there. For every idea I've realized, I have ten I sat on for a decade till someone else did it first. Write it. Shoot it. Publish it. Crochet it, sauté it, whatever. MAKE.

I love how he is not necessarily style restrictive even in this case he is all for just producing it.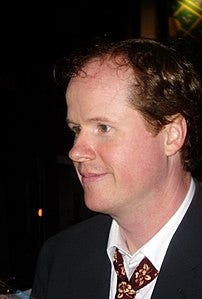 Image via Wikipedia
Bonus Goodies
We all know that Dr. Horrible was a result of, and a metaphor for, the writer's strike. He even says, at one point, that he wants to "put the power in different hands." But things didn't turn out so well for Billy in the end. How did the tragic ending relate to the writers-strike metaphor, or did the metaphor not extend that far? — Jonathan
We didn't write it as a metaphor — we just wanted Penny to have an agenda besides being torn between two men, and Billy's perspective is the classic cry of the noble villain. But this is a story that's been relevant for a long while — like, since there's been power. And people hoarding/abusing it. Wonder Woman brought up similar issues, which may be part of why it wasn't made.


Do you watch the movies/television shows the cast members from Buffy, Angel, or Firefly star in? Any favorite works of the cast members in particular? — Daniel
Dude, Summer Glau is a Terminator. Summer Glau is a Terminator! My work on Earth is done.

And Castle [the new show starring Nathan Fillion] looks fun.

this is a hilarious answer, I had the same thought about Summer Glau… She Rocks!!! if only the show was any good.