Discover more from Project: Shadow
Are you ready for an adventure beyond your wildest dreams? Dive into my electrifying space opera, mystical urban fantasy, and epic fantasy stories, and discover the unseen wonders of Writing, Fandom, and Fiction as seen through metamodern eyes.
Stargate SG-1 streaming on Hulu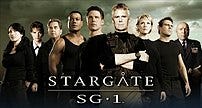 Stargate SG-1 is now on Hulu (watch it here)!
Season 1 of the longest running speculative fiction show on TV is now up for you to watch, enjoy, and fall in love with over at Hulu.
The availability note for the series simply says: "More seasons coming soon."
If you are not familiar with the adventures of Jack, Daniel, Sam and Teal'c, join the adventure today!