Discover more from Project: Shadow
Are you ready for an adventure beyond your wildest dreams? Dive into my electrifying space opera, mystical urban fantasy, and epic fantasy stories, and discover the unseen wonders of Writing, Fandom, and Fiction as seen through metamodern eyes.
Roller Coaster Tycoon 3-Gold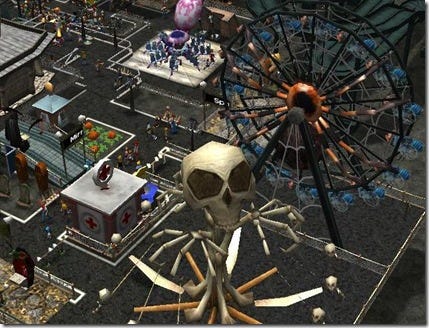 Even though Roller Coaster Tycoon 3 is a few years old, I keep coming back to play it.  I love the wide variety of game play you can have.  From sandbox mode where you can do whatever you like and have as much money as you need, to career mode where you have tasks you must complete. This game is hours of fun.

I've always been impressed with this company's attention to detail when it comes to theme rides and decor.  Even with the first edition of RT, they gave you the opportunity to pimp out your park with horror-themed shops and scenery.

A new thing with this version is that you can make your janitorial staff match your theme.  We used to be able to change the color of their outfits, but now you can make your janitors wear western or skeleton overalls.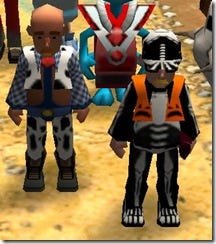 They must have had real horror fans creating this version because the visuals leave no spooky stone unturned.  From the Blood Shake Booth to the pumpkin head entertainers, these visuals are horrorfying.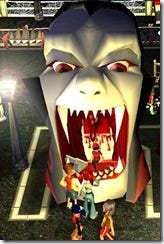 They have options for you Sci Fi fans too.  Including a steampunk-like planetarium, robots, spaceships, and even an alien entertainer. 


For those of you who tend to migrate towards water parks, they have a massive pool complex library that you can create large pool complexes with including diving boards, hot tubs, showers, slides, lifeguards, and wave pools.  Once you build one of these puppies, the customers flock to your park in droves.  The walkways and ride add-ons are slightly difficult to maneuver at first, but once you discover you can make multi-level pools and large sunbathing areas, you'll be hooked!  Don't forget to put an Inflatable Stall just outside the changing rooms so that your people can ride around the pool on alligators, dolphins, and turtles.  The way these two separate items work together is just one of the ways this version is more "real".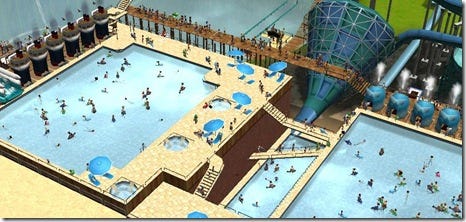 They did not leave you country folk out.  There are dozens of western rides and attractions including animatronic cowboys, Indians, and banditos.  If you set them up properly, they will have a shoot out across the paths.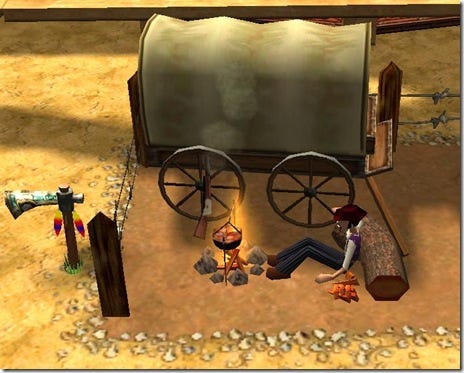 There are only a couple of technical issues with this game.  The first is when it becomes nighttime.  For some reason the game will slow up.  It seems to get worse if you have a lot of lamps installed.  The second is when you get over 3000 people in your park and build a lot of intricate rides over a large space.  Considering how graphics intensive this game is, it's not hard to imagine why.  With so much activity, the computer has difficulty keeping up.  I've enjoyed this game on Windows 2000,  XP, and Vista and these are the only two bugs I've found.

This game is by Atari and is rated E for everyone, so gather the family and spend a night creating your dream theme park.  But I warn you... this game is highly addictive.

You can purchase Roller Coaster Tycoon 3, by clicking this Amazon portal.