Discover more from Project: Shadow
Are you ready for an adventure beyond your wildest dreams? Dive into my electrifying space opera, mystical urban fantasy, and epic fantasy stories, and discover the unseen wonders of Writing, Fandom, and Fiction as seen through metamodern eyes.
Dr. Horrible's 2, So Captain Hammer Says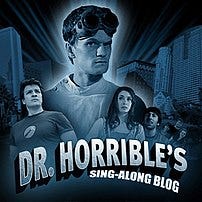 Image via Wikipedia



Nathan Fillion joins Joss Whedon in the desire to make another Dr. Horrible's Sing-Along Blog.  This is music to my ears but don't get too excited yet.  It appears the only thing keeping us from the next one is their busy schedule.

"He's busy with Dollhouse right now, and I'm a little bit busy with Castle right now, so not in the near future, no," Fillion said.

Get your copy of Dr. Horrible's Sing-Along Blog here


(via Sci-Fi-Wire)