Discover more from Project: Shadow
Are you ready for an adventure beyond your wildest dreams? Dive into my electrifying space opera, mystical urban fantasy, and epic fantasy stories, and discover the unseen wonders of Writing, Fandom, and Fiction as seen through metamodern eyes.
Trivium Concert MP3s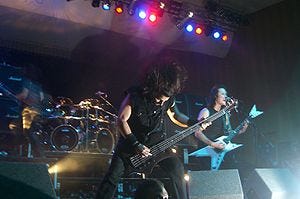 Image via Wikipedia
Trivium set up a site where you can download live recordings of their concerts at live.trivium.com.  Each concert sells for $10.
Great idea!  I am not sure about the price though.  If they sold them for $5 more people would snap them up.  I am curious to see how this works.
Would you buy live recordings of your favorite band?  I know I have.