Discover more from Project: Shadow
Are you ready for an adventure beyond your wildest dreams? Dive into my electrifying space opera, mystical urban fantasy, and epic fantasy stories, and discover the unseen wonders of Writing, Fandom, and Fiction as seen through metamodern eyes.
Slave Leia Revolt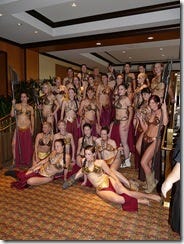 When an army of slave Leia's gather in one room at Dragon*con, how many fans suffer heart attacks?  …or at the very least forget the language they speak with regularity and loose the ability to look away?
(via Ihnatko)