Discover more from Project: Shadow
Are you ready for an adventure beyond your wildest dreams? Dive into my electrifying space opera, mystical urban fantasy, and epic fantasy stories, and discover the unseen wonders of Writing, Fandom, and Fiction as seen through metamodern eyes.
Reviewing The Magic Blade: Shaw Brothers
Review of: The Magic Blade: Shaw Brothers

Overall Rating: 8.5 B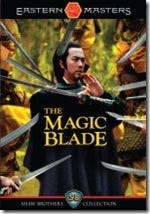 This is a classic Wuxia film set in the mythical jiang hu, underworld. The effects and sounds are a little jarring at first but should be overlooked and considered with the other films that came out in it's day, 1976. Watching this movie showed me how far this genera has improved. If your familiarity with the genera is from movies like Crouching Tiger Hidden Dragon then be patient with the effects because the story is fun and well worth it.

The story is about two rival swordsmen in imperial China Fu Hung-Hsueh and Yen nan-Fei vie with a power-hungry villain for the deadly Peacock Dart and fend off waves of the best assassins and deadly traps during their journey. The story takes a classic fantasy quest structure and fills it with many plot twists and fights concluding with the climactic showdown on the villain's island lair.

If you like Wuxia, fantasy quest tales or action films this is definitely a movie for you. The Magic Blade: Shaw Brothers is a refreshing fun ride and worth watching.

Likes

Story

Action sequences

The wire work was very fluid and I would go so far as to say it would compare with current day films wire work.

Dislikes / Concerns

sound effects, but in all fairness they would have been considered good for it's time.

visuals, although not the best that limitation came from the equipment not due to the director who did a good job framing the scene and getting dynamic shots