Discover more from Project: Shadow
Are you ready for an adventure beyond your wildest dreams? Dive into my electrifying space opera, mystical urban fantasy, and epic fantasy stories, and discover the unseen wonders of Writing, Fandom, and Fiction as seen through metamodern eyes.
Clockpunk choppers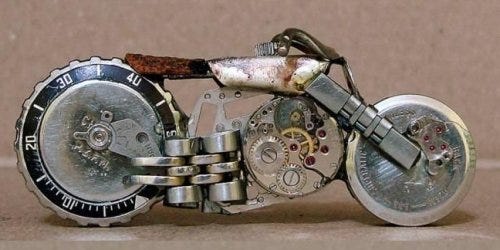 I love the look of this chopper, but it maked me thing of a new kind of Mecha.  If Soundwave could be a giant robot and a tiny tape recorder, then I want a watch that turns into a good sized bike.  What too much to ask? 
Clockpunk choppers: mysterious motorcycles made from watch-parts -- UPDATED - Boing Boing