Discover more from Project: Shadow
Are you ready for an adventure beyond your wildest dreams? Dive into my electrifying space opera, mystical urban fantasy, and epic fantasy stories, and discover the unseen wonders of Writing, Fandom, and Fiction as seen through metamodern eyes.
DVD Releases: December 30th, 2008
We get to end the year with a Roar!!!!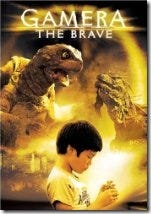 Gamera the Brave:  A giant monster movie classic, a great example of craptastically awesome B roll movie and a must own!
---


Netflix lets you rent, watch and return DVDs from home - Try free for 2 weeks

Don't wait. Guarantee your seat before you go and  avoid a sold out show. Skip the box office lines and buy movie tickets at Fandango.com.