Discover more from Project: Shadow
Are you ready for an adventure beyond your wildest dreams? Dive into my electrifying space opera, mystical urban fantasy, and epic fantasy stories, and discover the unseen wonders of Writing, Fandom, and Fiction as seen through metamodern eyes.
DVD Releases: December 16th, 2008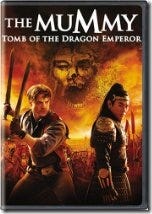 The Mummy: Tomb of the Dragon Emperor:  This move rocked!  A definite owner.  Read my full review Exploring The Mummy: Tomb Of The Dragon Emperor.


Aqua Teen Hunger Force, Vol. 6:  This is a crazy series of pure speculative fiction, it's also really freaking hilarious

The Day the Earth Stopped:  wow! Giant robots from space, humans proving they're worth saving or be destroyed, screaming car chases, plenty of gunplay, and Judd Nelson!  What a funny premise for a spoof film, I must… nay I am renting this one.  What's the word… craptastic!

Darklight:  A sci-fi thriller with a young demoness named Lilith who has amnesia must save earth by slaying the Demonicos who is spreading a plague across earth.  I'm not sure about this one, has anyone watched this film and what were your thoughts on it?
---


Netflix lets you rent, watch and return DVDs from home - Try free for 2 weeks
Don't wait. Guarantee your seat before you go and  avoid a sold out show. Skip the box office lines and buy movie tickets at Fandango.com.