Discover more from Project: Shadow
Are you ready for an adventure beyond your wildest dreams? Dive into my electrifying space opera, mystical urban fantasy, and epic fantasy stories, and discover the unseen wonders of Writing, Fandom, and Fiction as seen through metamodern eyes.
Gulliver's Travels with Jack Black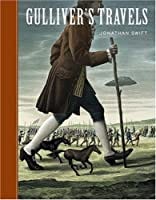 Book cover via Amazon



Are you ready for a contemporary re-imagining of Jonathan Swift's Gulliver's Travels?

Twentieth Century Fox is moving forward with a film version of the book, this time with Jack Black playing the titular character. Shark Tale director Rob Letterman will be taking up directorial duties. Shooting will begin in March, with a screenplay by Nicholas Stoller and Joe Stillman (/Film).

At first, I was not excited about it, but then my unexplainable love for Shark Tale took over, and now I am a bit giddy.  I am not sure if this will be dramatic Jack or comedic Jack, but I can really see him getting assaulted by Lilliputians.