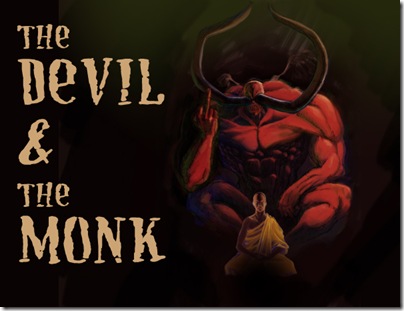 The Devil and the Monk is a strange and funny comic about the travails of a Devil trying to make a Buddhist monk suffer in hell.

I have a very peculiar sense of humor and I am not easily offended.  I laughed on most of the pages and shook my head at the poor devil as he tried over and over again.

This is a sort of metaphysical Wily Coyote story, and the end is classic.

Check out The Devil and the Monk. 
Charlie Dorsett
My name is C.E. Dorsett, and I am a scifi/fantasy writer. I have written the books Shine Like Thunder and The Chain, just to name a couple. I am really a builder of worlds from the wuxia inspired, scifi setting Our Solemn Hour to the dark fantasy of Dragons of Night. My writing is influenced by writers like H. P. Lovecraft, Charlaine Harris, Alice Hoffman, Armistead Maupin, Frank Herbert, E E Doc Smith and Robert E Howard. I love to tell stories and talk with my readers.